Combined Mining Supervisor (G1, G8, G9) & G2 (RIIRIS402E) ONLINE course – $750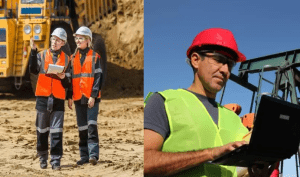 Overview:
Upon successful completion of this online training program, participants will have acquired the skills and knowledge to enable them to undertake the role of a Mine Safety and Health Representative or Mine Supervisor and perform the duties and position requirements of these roles. These units are appropriate for those working in operational roles at worksites within civil construction, coal mining, drilling, extractive, and metalliferous mining industries.
This course also includes the G2 (RIIRIS402E) Carry out the Risk Management Process unit, which covers the skills and knowledge required to carry out risk management processes in the Resources and Infrastructure Industries. This course is often a requirement for mine workers who are wishing to progress their career into a position of leading hand, supervisor, superintendent, deputy, or those who are elected as a Site Safety and Health Representative.
Pre-requisites: 
The RIICOM301E unit will require audio/visual submissions. As such, participants must be able to record themselves using a method where they can be seen and heard clearly.
Participants must have access to a reliable computer with email and internet access and Microsoft Word. Mobile phones or tablets cannot be used for this online course.
Licence & Regulatory Requirements: 
It is an industry requirement that participants who obtain these competencies complete recertification training every 5 years.
Student Flyer: (Download here)
If you wish to enrol in these courses individually, please see the below links:
Online mining supervisor course (G1, G8, G9)
Online RIIRIS402E Carry out the risk management process (G2)
On successful completion participants will be issued with a Statement of Attainment with the following unit:
RIIRIS301E Apply risk management processes (G1)
RIIWHS301E Conduct safety and health investigations (G8)
RIICOM301E Communicate information (G9)
RIIRIS402E Carry out the risk management processes (G2)
Option 1: Online/self-paced
The student has 3 months to complete the online training.
Support for this online training is done via email with an assessor.
You can start your online training as soon as you complete payment for the course. You will have access to all your learning resources and assessments via your online portal and can complete the course at your own pace, so you have the opportunity to accelerate your learning and finish this course as quickly as you like!
Option 2: Group booking – 2 day classroom
Option 1: Online/self paced: $750
Option 2: Classroom – Group booking please contact us for pricing
Fees include all assessments and resources required.
Refund, Cancellation and Transfer Policy
Please take the time to familiarise yourself with our refund and cancellation policy on page 8 & 9 of our Student Handbook. This handbook also includes more details on training and support services, as well as our terms and conditions.
Note for international students – we are not CRICOS registered, please check your visa requirements for enrolment.  We cannot accept international students who are on a student visa if your visa specifies that you must study with a CRICOS provider.
We guarantee to beat any comparable competitor pricing (conditions apply)
Please contact us if you do happen to find a better price.