CPP20218 Certificate II in Security Operations – $895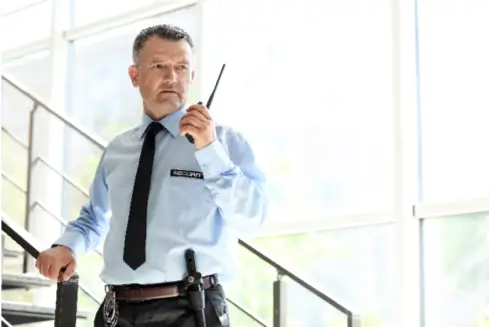 Overview: 
This course is for those who wish to apply for a Queensland Class 1 Security Licence with licence functions – Unarmed and Crowd Controller. Those who hold Queensland Security licences are required to complete revalidation training every 3 years and hold a current first aid certificate.
This licence allows you to undertake employment as an:
Unarmed Security Officer Personal guards, patrols or watches another person's property. They do this without a guard dog or weapon. This includes in-house security (someone who guards, patrols or watches their employer's property), loss prevention officers and security gate officers.

Monitoring

Officer

Monitoring no longer requires additional training in order to be added as a function to your security license.
Crowd Controller Keeps order at a public place. Crowd Controllers screen the entry of people into a place, monitor or control their behaviour while inside, remove people for bad behaviour.
Pre-requisites: 
Participants must have sufficient skills to read, write and communicate in English. Participants must also be physically fit, and able to perform defensive tactic techniques, and bend/kneel for at least 2 minutes to perform CPR. Participants must also have access to a reliable computer with email and internet access to complete the pre course online training. Mobile phones or tablets are not compatible with the online training portion of this course.
Licence & Regulatory Requirements:
All QLD Security Licences are administered by Office of Fair Trading. All participants are encouraged to read through the requirements of a QLD Security Licence application, as there is additional requirements & fees payable to Office of Fair Trading. For example, participants must be over the age of 18, must be a fit and proper person, cannot have had any disqualifying offences under the criminal code in the last 10 years.
Student Flyer: (Download here)
If you hold a current Crowd Controller/Bodyguard Queensland Security Licence and need to renew, enrol in Crowd Controller Refresher (3 units).
On successful completion participants will be issued with a qualification with the following units:
CPPSEC2101 Apply effective communication skills to maintain security
CPPSEC2102 Apply legal and procedural requirements to work effectively within a security team
CPPSEC2103 Apply WHS, emergency response and evacuation procedures to maintain security
CPPSEC2104 Apply risk assessment to select and carry out response to security risk situations
CPPSEC2105 Provide quality services to a range of security clients
CPPSEC2106 Protect self and others using basic defensive techniques
CPPSEC2107 Patrol premises to monitor property and maintain security
CPPSEC2108 Screen people, personal effects and items to maintain security
CPPSEC2109 Monitor and control access and exit of persons and vehicles from premises
CPPSEC2110 Monitor and control individual and crowd behaviour to maintain security
CPPSEC2111 Apply security procedures to manage intoxicated persons
CPPSEC2112 Apply security procedures to remove persons from premises
CPPSEC2113 Escort and protect persons and valuables
HLTAID011 Provide First Aid
This course is run as a blend of distance learning and face-to-face.
Pre-course work:
Online/self-paced training (30-40 hours based on previous experience and ability to use a computer). This involves reading, watching videos and completing quizzes and exams. Your online training must be completed prior to the face-to-face training.
Face-to-face work:
6 days face-to-face (10 hours each day for a total of 60 hours) – your trainer will review content, deliver activities, case scenarios and practicals and you will complete closed book exams.
$895 discounted special (Cost normally $1,250)
Fees include all assessments and resources required in the classroom (and for pre-course online training).
GOVERNMENT FUNDING – Due to licencing requirements this Certificate II course is available under the Certificate 3 Guarantee program. If eligible, students only pay a student contribution fee of $42 non-concessional or $14 concessional.
Please click HERE or contact ATI on 07 3269 5005 for further information.
If you believe you are eligible and wish to apply for government funding, give us a call on 07 3269 5005 and we will assist you with your funding application!
Registration for this course closes 1 week prior due to online training requirements.
Payment Plan
A Zip payment plan is available for this course.
If you have a zip account and wish to set up a payment plan, please contact us on 07 3269 5005 and we will be happy to assist you.
Option 2 Recognition of Prior Learning (RPL): $2,500
Refund, Cancellation and Transfer Policy
Please take the time to familiarise yourself with our refund and cancellation policy on page 8 & 9 of our Student Handbook. This handbook also includes more details on training and support services, as well as our terms and conditions.
Note for international students – we are not CRICOS registered, please check your visa requirements for enrolment. We cannot accept international students who are on a student visa if your visa specifies that you must study with a CRICOS provider.
We guarantee to beat any comparable competitor pricing (conditions apply)
Please contact us if you do happen to find a better price.